Solar Heating Systems
Solar thermal collectors have been around for many years, McCallum Water Heating has been involved in solar solutions from the very start supplying solar twin coil Cylinders and Calorifiers to the Scottish building services industry.
As we become more aware of the effects of global warming, renewable energy products such as solar collector panels are finally coming to the forefront of the carbon emissions debate. Many companies now offer renewable energy products, McCallum Water Heating has the back up from one of the original manufactures and can rely on over 28 years of experience in the Scottish and UK market, Add this to the 131 years of experience in the design and manufacture of water heating solutions and you get the feeling any system offered by McCallum Water Heating has been considered from every angle.
It's reassuring to know that both our Panels and Cylinders are manufactured in Scotland. If you require a system outline and quotation please download our solar Questionnaire.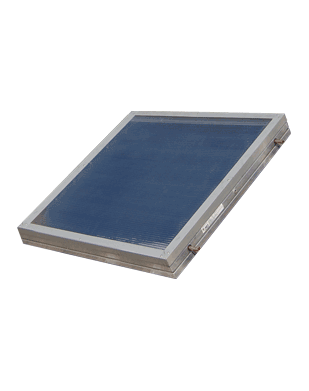 Solar panel Collectors
McCallum Water Heatings flat solar panels are manufactured in Scotland and have a life expectancy in excess of 25 years. Our panels are constructed to EN12975 By ITW and have been tested in both Europe and the Fare East.
We also offer Evacuated Tube panels and any information can be supplied on request.
Solar panels information

Name
Height (mm)
Width (mm)
Area (m²)
Weight (kg)
A
1175
1032
1.2
11
B
1175
1500
1.7
14
C
1500
1175
1.7
14
D
1175
1945
2.2
18
E
1945
1175
2.2
18
F
1175
2130
2.5
20
G
2130
1175
2.5
20
H
1175
2880
3.3
23
I
2880
1175
3.3
23
J
1175
3770
4.4
32
K
3770
1175
4.4
32
L
Collectors can be custom made - shapes sizes and weights vary
Solar Panel Technical Specification
| | |
| --- | --- |
| Absorber Plate | Aluminium fins metallurgically bonded to rhombic shaped copper water ways providing large water to wall contact for maximum heat transfer |
| Sputter coated selective surface | Solar Absorption = 96% ± 2, Thermal Emission = 7% ± 2 |
| Glazing | One outer layer of Tedlar film manufactured by DuPont, minimises heat loss and ensures minimal weight. Overall light transmittance = 95%. |
| Backing | Melinex film, ensuring the collectors are completely waterproof |
| Collector Box | Aluminium box section with all round fixing channels for easy fitting. A sensor pocket is fitted at the appropriate location |
| Insulation | Rigid PIR foam, manufactured with zero ODP |
| Flow And Return | 15mm copper for serpentine operation, 22mm for Headers & Risers |
| Fluid Content | 0.6 litre per 1 square metre of collector area |
| Flow Rate | 1 litre per square metre of collector area per minute |
| Transfer Fluid | 100% Tyfocor antifreeze mixture (recommended) |
| Test Pressure | 15 Bar |
| Maximum Working Pressure | 10 Bar |
| Pressure Drop | 10 kPa at flow rate of 0.03 litres per second, per 1 square metre of collector area |
| Fixing Methods | (1) Retrofit on top of roof cover (2) Flat roof mounted with A-frames and/or ballast or roof fixing |
| Instantaneous Efficiency | 85% |
| Tested By | University College Cardiff, TNO The Netherlands, National University of Singapore, EN12975 by ITW |
| Life Expectancy | In excess of 25 years |
| Applications | Small to large domestic hot water systems, industrial process and swimming pool heating |
Solar Panel Control Systems
Tried and tested control systems are integrated into each system, Control packages with BMS link can also be provided. Advanced Date logging systems are also offered with data available to down load via an internet link.
Panel Mounting
McCallum Water Heating can provide roof fixings for every type of roof application. It's very important to consider the roof construction, angle of pitch and orientation at the outset, as this will play a major part in the systems design and cost.
Typical System Layouts
McCallum Water Heating have been involved a wide range of solar thermal projects and can provide detailed system drawings and on-site support for both design and installation. Basic system layouts are offered for you to download, if you require any further support or would like to discuss your system in depth please contact us any time.
PDF's available for download